Enjoy the Goodwood Festival of Speed on a Weekend Break, Short Break or Holiday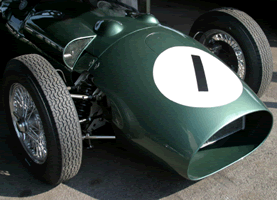 The Goodwood Festival of Speed has become an established part of the UK's motor sport summer featuring historic motor racing vehicles in the grounds of Goodwood House in West Sussex.
Although the hill climb event is at the heart of the Festival there is so much more to and and see including the Forest Rally Stage through Goodwood Park, the off-road Activities Field, Junior Festival of Speed, Supercar Paddock and the Moving Motor Show display to name just a few.
The three day Festival held between 25th June and 28th June in 2015 attracts 150,000 visitors a year and is perfect for a cottage weekend break, short break or holiday. See some excellent self catering below and find out more about the Good Festival of Speed below that.
Start your Goodwood Festival of Speed Cottage Break
Goodwood Festival of Speed
The Goodwood Festival of Speed was founded back in 1993, although Goodwood's racing roots go back to the 1930's, by the Earl of March who was keen to bring motor racing back to the historic Goodwood estate. Since then it has evolved in to the largest motoring garden party in the world!
In what has become a unique summer motor racing weekend there is a wonderful mix of cars, stars and the motor racing elite that celebrates the world of motor sport.
For motor sport enthusiasts, affectionately known as Petrol Heads, it has everything you could possibly want from the fastest supercars and Formula One cars to dragsters and classic rally cars.
The Hillclimb is the main attraction where 300 cars each day take on the 1.16 mile challenging course through the Goodwood estate encountering tree lined roads, flint walls, woodland groves and climbing up 300 foot to the South Downs. You can stand on the route within feet of the fastest cars and motorcycles taking on this white knuckle ride.
The Supercar Run takes places regularly over the weekend with the hottest and coolest supercars appearing on the Hillclimb. However it's not just motor cars, Motorcycle Mania see some of the world's best machines and riders take on the Hill too.
The Forest Rally Stage was designed with help from World Rally Champion Hannu Mikkola is a challenging 1.67 mile loose surface track which enables you to fully appreciate the skills of the 50 or so drivers from many vantage points throughout the Forest.
If all of that is not enough there is so much more going on including:
Interview Stage - hear from top drivers past and present, go autograph hunting too!
Exhibition area - see top motor manufacturers spectacular displays on over 200 stands
Off Road Activity - check out some high speed driving demonstrations pushing 4x4's to their limits
FOS-Tech Pavilion demonstrating the future of motor with concepts cars
Motor inspired Art and Sculptures Exhibitions
Air Displays. Breathtaking displays from a huge range of aircraft, old and new - the RAF Red Arrows have made regular appearance through the years.
Junior Festival of Speed. The Festival is not just for adults! It is a great day out for young and old and the dedicated Junior Festival of Speed is packed with activities for younger visitors including The Wacky Races, fun art Workshops and more
Goodwood Festival of Speed Tickets and Information
You have to buy tickets in advance for the Goodwood Festival of Speed by calling 01243 755055, e-mail ticket.office@goodwood.com or online.
You can find out lots of other important information including spectator advice at the official Goodwood Festival of Speed website.
Self Catering near Goodwood Festival of Speed
Above you will find a selection of self catering cottages and apartments in West Sussex which provide a good base for a weekend break, short break or holiday within easy reach of the golf course. If these do not meet your needs, below we have provided some alternative searches
Guest Houses, B&B and Hotels near Goodwood
If you are looking for single night accommodation or something a little cheaper then it is worth taking a look at some of the B&B, guest house and hotel accommodation available near by:
Other Motor Sport Events
If your are interested in motor sports then check out our other motor sport articles:
Refine your cottage search
We have thousands cottages, apartments, lodges and bungalows listed which is a huge choice. So if that is feeling a little overwhelming, why not narrow down your search by county using the menu at the top of the page or use our Advanced Cottage and Self Catering Search to select specific accommodation features.
More Holiday Ideas for you to consider
If you have found this holiday article interesting, why not take a look at some of our others.