How to get the best deal for your summer holiday cottage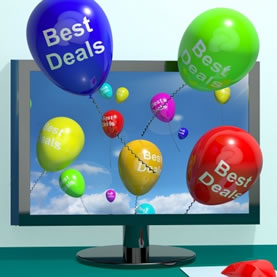 It has become one of those unwritten holiday rules... 'leave booking late to get the best deals' but is it really true or a great holiday myth? And, is it true for a self catering summer holiday cottage in the UK?
Well first things first, there was certainly a point when this was very true particularly for things such as holiday flight booking when availability was quite often ahead of demand. It's also more likely to be true in the off-season, but that's not so great for a summer holiday!
However, for the last few years it certainly has not been true of self catering accommodation in the UK. The reasons are simple....
There are nearly 20,000 places listed on Find Cottage Holidays, but they are only available for 1 booking at a time... so through the summer high season that means just 8 1-week bookings or 4 fortnight bookings.
Popular accommodation is quickly snapped up by people who have been there before, sometimes almost as soon as they have finished a holiday!
Factor in the most popular locations and the sought after dates when we all want to get away and quite quickly you can see it becomes a challenge to secure the self catering property you want.
What of those great last minute deals? Well with demand outstripping availability in the summer - most of the accommodation has long since been booked - owners do not need to offer cut price deals.
So what is the best way to get a good deal?
If you want to go to a specific property/area or be away on a particular week in the summer, then the earlier you book the better. It's the only way to secure your ideal holiday accommodation.
And, you can be confident that prices are unlikely to drop later, because there will be limited availability.
Does that mean there is no competition and deals from all the owners?
Well, no. It does mean that offers and deals are available earlier in the year as owners and providers have realised that as people are looking earlier they need to make their offers earlier.
As a result you will now find lots of early booking offers including super low deposits (some as low as £25) which makes securing your next summer holiday accommodation a very low risk.
Of course, the earlier you book the more choice there is and so the better deal you can find. At Find Cottage Holidays you can see our best deals, offers and voucher codes from a selection of holiday providers in one place: see offers»
Also don't restrict your search to just one of the UK's large self catering suppliers. Check out a number of places online... or check out Find Cottage Holidays where you find accommodation from leading suppliers and independent owners all in one place.
Top summer booking tips
1. Start looking early - when you get back from your summer holiday but certainly before the end of January
2. Be flexible on your dates/location to give yourself more choice
3. Take advantage of any early booking offers
4. Reserve your cottage with a deposit
5. Most important, search on Find Cottage Holidays for the best deals ;)
Looking for some ideas where to head this Summer?
More Holiday Ideas for you to consider
If you have found this holiday article interesting, why not take a look at some of our others.