Luxury Cottages Suffolk
Luxury cottages in Suffolk are the perfect way to explore the rural countryside that was captured in so many of John Constable's famous paintings. Suffolk also has a wonderful, largely unspoilt coastline that includes some lovely postcard-pretty seaside towns that offer perfect coastal walks, sandy beaches and bathing in the sea.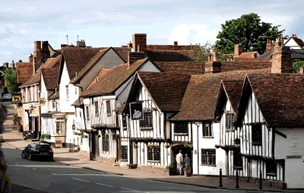 Suffolk came to prominence during the 13th-16th Centuries when the wool trade was at its height and much of that history can still be seen in the county. Of course Constable's paintings also brought the region alive and you can find Flatford Mill, the subject of one of his most well known painting, can be found close to the Suffolk-Essex border.
Throughout Suffolk you will find some outstandingly beautiful villages and towns such as Lavenham, Long Melford and the historic town of Bury St Edmunds. Aldeburgh is well known for hosting one of the countries best music festivals.
However, it is the Suffolk coast that attracts the most visitors every year with the gentle rolling countryside being popular with walkers and cyclists. The delightful genteel seaside town of Southwold being a must see. While it's worth wandering through the Georgian high street, its the stretch of peaceful, relaxing and untouched seaside coast that is the real star. If you are looking for a more family friendly and active seaside resort in Suffolk then Lowestoft is is place to head.
Suffolk coast attracts visitors every year with the gentle rolling countryside being popular with walkers and cyclists
The county town of Ipswich is also well worth a visit and for those interested in football is where Suffolk's highest placed league team plays (see more about Ipswich Town Football Club). For horse racing enthusiasts, or those that like to see horses up close, head to Newmarket the Home of Racing and The National Stud. Check out some more attractions in Suffolk.
If you feel inspired to spend a short break or holiday in a luxury cottage in Suffolk then browse a selection of cottages and apartments below or alternatively take a look at all of our Suffolk cottages.
For last minute availability please call: 0844 847 1143
Special offers and Last Minute Deals in Suffolk
To get some great last minute Luxury Cottage Suffolk deals and latest availability we recommend calling 0844 847 1143 for a selection of cottages, apartments, lodges and more.
Suffolk Luxury Cottages
The Luxury Suffolk cottages are a selection of top quality cottages and apartments which are often 4 star or 5 star rated. As such you can rest assured that you will enjoy a high quality stay with lots of luxurious trappings and service.
More Holiday Ideas for you to consider
If you have found this holiday article interesting, why not take a look at some of our others.