Edinburgh Festivals, Fringe and Tattoo on a Weekend Break, Short Break or Holiday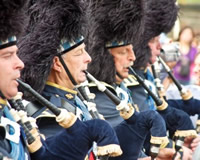 For many Edinburgh is known simply as the Festival City and no wonder when the city has not one but a dozen world-class events, many overlapping or running at the same time!
Edinburgh hosts many leading International Festivals and events including an International Film Festival, Jazz and Blues Festival, Science Festival, Art Festival, Edinburgh Military Tattoo, Edinburgh Festival Fringe, and the Edinburgh International Festival.
August is perhaps the most hectic with the Edinburgh Military Tattoo, the Edinburgh International Festival, the Edinburgh Festival Fringe and the Edinburgh International Book Festival all taking place.
With so much Festival fun Edinburgh is hugely popular for weekend breaks, city breaks, short breaks and holidays particularly from June to September. See some excellent self catering apartments and holiday flats below and find out more about the Edinburgh Festival fun below that.
Edinburgh Festival, Fringe and Tattoo Self Catering
Edinburgh Festivals and Military Tattoo
Edinburgh has 12 different festivals throughout the year and that means some 2,500 different events to see every year in the Scottish city. So whether you are heading to Edinburgh in August at the height of the Summer festival season or heading there for a Spring or Autumn break you are sure to find lots to keep you entertained. Here's what there is to look forward to in 2013.
2013 Edinburgh Festivals
Edinburgh International Film Festival: 17-28 June 2015
Edinburgh Jazz and Blues Festival:  17-26 July 2015
Edinburgh Art Festival: 30 July- 30 August 2015
Royal Edinburgh Military Tattoo: 7-29 August 2015
Edinburgh Fringe: 7-31 August 2015
Edinburgh International Book Festival: 15- 31 August 2015
Edinburgh Mela Festival: 29-30 August 2015
So what's it all about... the Edinburgh Festivals
The Edinburgh Festivals started in 1947 when the first Edinburgh International Festival was held to celebrate the end of the World War II and a return to peace. Celebrating diversity over three weeks with music, opera, dance and theatre to the fore. Since those early beginning the Edinburgh International Festival is now the most famous, oldest and one of the biggest Festivals in the World.
The Edinburgh Festival Fringe was also borne in 1947 when some of the theatre companies not included in the International Festival created their own. The Festival Fringe is now the biggest festival of performing arts anywhere in the world.
The International Film Festival also started in 1947 and is a leading 2 week showcase for the best in new British and European films. The International Book Festival, usually part of the International Festival, is a book lovers dream... with talks, readings, debates, lectures, book signing and opportunities to meet the authors.
The Edinburgh Military Tattoo is a wonderful outdoor spectacle which presents a host of international performers, military and civilian, set against the incredible backdrop of Edinburgh Castle. Marching bands, massed pipes and drums, acrobats, cheerleaders against the world-famous backdrop of the Edinburgh Castle.
This is just a selection of what's going on, we haven't even mentioned the Science Festival, Imaginative Children's Festival, Art Festival, Mela Festival, Storytelling Festival and Edinburgh's Hogmanay!
Edinburgh Festivals and Tattoo Tickets and Information
You can buy tickets to all of the Edinburgh Festivals and the Military Tattoo via the The Official Edinburgh Festivals website. This website is also a great place to find out about all the acts performing, the latest news and events to see.
Staying near the Edinburgh Festivals
Above you will find a selection of self catering cottages and apartments in Edinburgh which provide a good base for a weekend break, short break or holiday. If these do not meet your needs, below we have provided some alternative searches
Guest Houses, B&B and Hotels near Goodwood
If you are looking for single night accommodation or something a little cheaper then it is worth taking a look at some of the B&B, guest house and hotel accommodation available near by:
Other Things to do near Edinburgh
Besides the wonderful Festivals there are lots of things to do in or near to Edinburgh, here are some suggestions:
Refine your cottage search
We have thousands cottages, apartments, lodges and bungalows listed which is a huge choice. So if that is feeling a little overwhelming, why not narrow down your search by county using the menu at the top of the page or use our Advanced Cottage and Self Catering Search to select specific accommodation features.
More Holiday Ideas for you to consider
If you have found this holiday article interesting, why not take a look at some of our others.