Luxury Cottages Norfolk
Luxury cottages in Norfolk are the perfect way to explore the rural countryside, inland waterways, coastlines and pretty flint built houses throughout the villages of Norfolk. Of course, Norfolk is rightly renowned for the Norfolk Broads that meander across the county but there is plenty more to see including miles of unspoiled coastline, plenty of traditional British seaside towns and a bustling city that is the counties capital.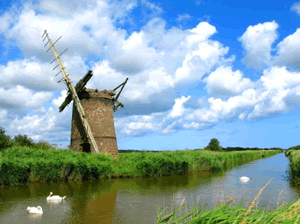 In Norman times Norfolk was a leading economic and political region in England. Although it's now a more tranquil and relatively sparsely populated county, much of the medieval history is in evidence especially in Norwich where you can find a Norman Castle and Cathedral. Norwich is not only the biggest city in Norfolk but in the entire East Anglia area and is well worth a visit for its history, culture and entertainment (find pubs, clubs,bars and restaurants near the river). It is also where Norfolk's highest placed league team plays (see more about Norwich City Football Club).
The Norfolk Coast has something for everyone. For family holidays it has a collection of busy and very 'English' seaside resorts including Great Yarmouth with its famous Pleasure Beach, Sheringham, Cromer and and Hunstanton. If you are looking for something a little less 'English seaside' then there is also miles of unspoiled coast, with the marshes, creeks and tidal flats being hugely popular place to head for bird watchers. Given that Norfolk is so flat it is great for walkers with the Peddars Way and North Norfolk Coastal Path forming a national trail that takes about a week to complete. Check out some more attractions in Norfolk.
Norfolk Coast has everything.... great family seaside resorts and miles of unspoiled coastline perfect for walkers and birdwatchers
The most visited part of the Norfolk though is the Broads which is a truly unique collection of tranquil rivers and waterways, and dotted throughout the Broadland you will find wonderful flint built villages to explore and take a look at the many windmills throughout the area.
If you feel inspired to spend a short break or holiday in a luxury cottage in Norfolk then browse a selection of cottages and apartments below or alternatively take a look at all of our Norfolk cottages.
For last minute availability please call: 0844 847 1143
Special offers and Last Minute Deals in Norfolk
To get some great last minute Luxury Cottage Norfolk deals and latest availability we recommend calling 0844 847 1143 for a selection of cottages, apartments, lodges and more.
Norfolk Luxury Cottages
The Luxury Norfolk cottages are a selection of top quality cottages and apartments which are often 4 star or 5 star rated. As such you can rest assured that you will enjoy a high quality stay with lots of luxurious trappings and service.
More Holiday Ideas for you to consider
If you have found this holiday article interesting, why not take a look at some of our others.