Popular Holiday Cottages in Scotland
Scotland is such a wonderful holiday location whether you are escaping for a short break or a summer holiday, that it is difficult to decide where to go.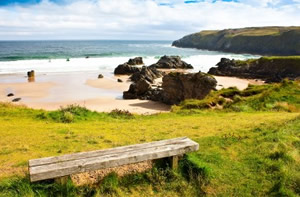 Do you start with exploring Scotland's capital and one the world's most fascinating and vibrant cities, Edinburgh, or set off for the gloriously beautiful Highland's coast. Or how about heading for the wonderful lochs and waterways, climbing Ben Nevis - the highest point in Britain - or exploring the Victorian streets and architecture of Glasgow?
Not forgetting of course to discover the proud history of Scotland that can be seen from its many castles and abbeys or some of the Scottish isles including Skye and Orkney.
So where to start? To give you some inspiration we have listed some of the popular self catering cottages in Scotland below. They are all lovely properties offering great self catering accommodation but they are also popular because of their great locations.
In terms of the most popular locations in Scotland to head for, you can not go far wrong with Inverness-shire, Argyll, Berwickshire and Perthshire. All lovely places, however with the Edinburgh Festival approaching you can be sure that Edinburgh cottage holidays will added to that list.
If you feel inspired to spend a short break or holiday in a luxury cottage in Scotland then browse a selection of cottages and apartments below or alternatively take a look at all of our Scotland cottages.
Find a Selection of Scottish Holiday Attractions
If you are heading off for a Scottish holiday or short break take a look at our Scottish holiday guides for some ideas of things to do and see while you are there.
If you have any attractions to add then simply get in touch and let us know, it's free.
More Holiday Ideas for you to consider
If you have found this holiday article interesting, why not take a look at some of our others.