Top Holiday Attractions in Scotland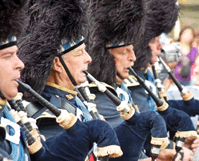 Whether you are looking for something to keep you, your partner or a group of friends entertained our selection of holiday attractions in Scotland will give you some inspiration.
From thrills and spills at theme parks to the peace and relaxation of beautiful gardens there is something for everyone across Scotland. The attraction listings include museums, country houses, castles, cathedrals, farms, zoos and so much more.
Scottish Holiday Cottage search
Scottish Borders
Berwickshire, East Lothian, Edinburgh, Peebleshire, Roxburghshire, Selkirkshire West Lothian
Central Scotland
Fife, Kinross-shire, Stirlingshire
South West Scotland
Ayrshire, Dumfries & Galloway, Kirkcudbrightshire, Lanarkshire, Renfrewshire, Wigtownshire
East Scotland
Aberdeenshire, Angus, Banffshire, Morayshire
West Scotland
Argyll, Dumbartonshire, Isle of Arran, Isle of Bute, Isle of Islay, Isle of Mull
Scottish Highlands
Caithness, Inverness-shire, Isle of Raasay, Isle of Seil, Isle of Skye, Orkney Island, Ross-shire, Sutherland, Wester Ross
Attractions with Wheelchair Access
Most UK holiday attractions now offer suitable wheelchair access and you will find on our listings that we have indicated where we believe they are accessible. However you should check prior to departure with the attraction for your specific needs.
Pet/Dog Friendly Attractions
Many of the attractions are dog friendly and so we have indicated where we believe they are pet friendly. Again, please check prior to departure with the attraction to make sure as rules do change.
Want to add to our Holiday Attractions
Our list of holiday attractions is growing and constantly being updated and so if you want to include a holiday attraction in England that you have been to then simply let us know via our Facebook page.