Enjoy Wimbledon on a Weekend Break, Short Break or Holiday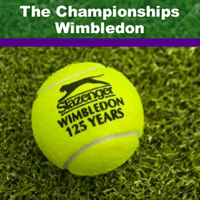 Wimbledon is one of the sporting highlights of the British Summer forever associated with strawberries and cream, grass court tennis action, Henman Hill (or now Murray Mount) and the all too early exits of British player. As one of the tennis World's four majors Wimbledon promises great tennis, the very best players and all the drama of a top sport event.
The Wimbledon Championship takes place between 25th June and 8th July 2012. During 2012 Wimbledon will also be the scene of the Olympic Tennis between 28th July and 5th August.
Whether you are lucky enough to have tickets or are aiming to get admission on the day (see below) Wimbledon is a wonderful experience to see live and soak up the unique atmosphere.
If you are visiting the Championships in South West London why not enjoy a weekend break, short break or holiday to make the most of the experience? We have some great self catering apartments in London that make a perfect base for a break. Find out more about Wimbledon below.
Start your Wimbledon Championships Break search
Wimbledon Tickets
There is a public ballot for tickets each year which requires you to register and complete forms the December before the Championships. However Wimbledon is one of the very few major UK sporting events where you can still tickets on the day of play.
There are a limited number of tickets each morning of the tournament and these are on a first come, first served basis with the Queue starting a couple of hours before the grounds open at 9.30am.
It is also possible to Queue for late entry tickets which get you in after 5pm - these are often the best way to get to see live tennis at a reasonable cost.
Find out more about ticketing via the Wimbledon website.
Wimbledon Museum and Tours
If you can't get to the Wimbledon Championships then why not visit the Museum or a Tour. These are not available during the tournament but run for most of the year.
Wimbledon has a long and dramatic history, from its garden party pastime roots to the multi million pound professional sporting event it now is. The Wimbledon Museum allows you to explore this history from the glittering Championship Trophies to the McEnroe Exhibit and an unsurpassed tennis memorabilia collection dating back to 1555.
You can also take a behind the scenes tour of Wimbledon, in 1.5 hours you will see some of the most recognisable and exclusive parts of the Grounds.
Find out more about ticketing via the Wimbledon tours and museum.
Finding Available Accommodation near Wimbledon...
Here are some useful self catering, B&B and Hotel searches for Wimbledon:
Alternatively why not stay outside of London and use the excellent rail network to get in and out of London. Here are some self catering options that are within easy reach of London:
Tennis Breaks across the UK and Ireland
If you are keen amateur tennis player or just looking for some family fun on your holiday in England, Scotland, Wales or Ireland there are some wonderful self catering cottages and apartments with access to tennis courts and facilities. Use the link below to start your tennis break search:
Cottages with access to Tennis Courts and Facilities
Refine your cottage search
We have thousands cottages, apartments, lodges and bungalows listed which is a huge choice. So if that is feeling a little overwhelming, why not narrow down your search by county using the menu at the top of the page or use our Advanced Cottage and Self Catering Search to select specific accommodation features.
More Holiday Ideas for you to consider
If you have found this holiday article interesting, why not take a look at some of our others.