Enjoy the Cowes Week Sailing Regatta on a Weekend Break, Short Break or Holiday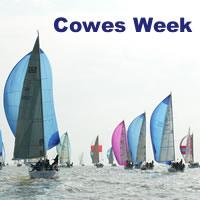 Cowes Week is the world famous sailing regatta that takes place every year on the south coast of England in August (8th 15th August 2015). It's one of Britain's biggest sporting events, the longest running (since 1826) and one of the most successful and popular summer events.
Cowes Week is a spectacular sight and an unforgettable experience both on and off the water, from the the party/celebratory atmosphere, busy streets, thriving pubs and restaurants to the exciting yacht haven, events and activities.
There is no better time to visit Cowes, the Isle of Wight and the south coast including Southampton, Portsmouth and Hampshire for a weekend break, short break or holiday so take a look at some great self catering cottages below. Find out more about the 2012 Cowes Week below.