Enjoy Royal Ascot on a Weekend Break, Short Break or Holiday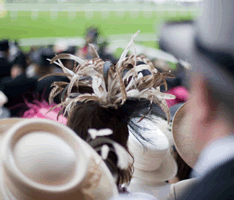 Royal Ascot is recogonised as one of the highlights of the British social calendar known almost as much for its tradition, pageantry, fashion and style as the horse racing. Held on the third week in June it's a magnificent spectacle, attended regularly by Royalty, with some of the best horse racing to be seen in the UK.
It will be a day to remember with each day of Royal Ascot starting with The Royal Procession from the Golden Gates along the race course to the Parade Ring from 2pm, with the first race starting at 2.30pm. The racing finishes at 5.35pm when racegoers can enjoy a traditional singing around the bandstand!
There is no better time to visit the Berkshire and Surrey area for a weekend break, short break or holiday so take a look at some great self catering cottages below. Find out more about the Royal Ascot below.
Start your Royal Ascot Cottage Break search here
Royal Ascot Racing and Fashion
Royal Ascot is about the horse racing and during 5 days there are 18 prestigious, the World's best races, known as Group Races with some £4.5 million in prize money at stake.
With so much money at stake, it's no surprise that the best of racing talent is on show and many of the races names will be familiar to even those that know little of racing including the Gold Cup, Coronation Stakes, Kind Edward VII Stakes (known as the Ascot Derby), Prince of Wales Stakes and the Golden Jubilee Stakes (renamed the Diamond Jubilee Stakes in 2012).
Although each day has a very similar format, over the 5 days each day has a different feel to it and so it is worth considering which is the best day for you.
Tuesday is the first day of Royal Ascot and so lots of new fashion is on show but in practice this tends to be a relaxed day
Wednesday has the Prince of Wales Stakes which caries the most prize money. The day is considered best for groups of friends to enjoy the day at a gentler pace
Thursday is better known as Ladies Day so style, fashion and elegance come to the fore on what is also Gold Cup Day. Thursday is definitely the day to see all designer hat creations and fashion that are covered so fully by the media each year
Friday featues the Coronation Stakes and the King Edward Vii Stakes and so plenty of good racing to see, a perfect start to a weekend
Saturday, the final day of Royal Ascot, has the prestigious Golden Jubilee Stakes (Diamond Jubilee Stakes in 2012) which is considered one one of the world's most important races. It is also a great day for families to attend as, although fashion is still to the fore it has a relaxed weekend feel to it with a more diverse weekend crowd.
Royal Ascot Tickets and Information
You can buy tickets for Royal Ascot by calling +44 (0)844 346 3000 (Monday to Friday 9am to 5pm) or in advance online.
You can find out lots of other important information including the dress codes for the various enclosures at the official Ascot website.
Finding Self Catering near Royal Ascot
The Royal Ascot racecourse is situated in the wooded countryside adjoining the Windsor Great Park in the Royal Borough of Windsor and Maidenhead. It's a 50 minute drive or train journey from central London with counties of Berkshire and Surrey closest. If you are struggling to find available accommodation close by then it is worth extending your search to Hampshire, West Sussex and Buckinghamshire as they are all offer good transport links tothe Ascot area.
Guest Houses, B&B and Hotels near Royal Ascot
If you are looking for single night accommodation or something a little cheapr then it is worth taking a look at some of the B&B, guest house and hotel accommodation available near by:
Refine your cottage search
We have thousands cottages, apartments, lodges and bungalows listed which is a huge choice. So if that is feeling a little overwhelming, why not narrow down your search by county using the menu at the top of the page or use our Advanced Cottage and Self Catering Search to select specific accommodation features.
More Holiday Ideas for you to consider
If you have found this holiday article interesting, why not take a look at some of our others.