Cheap May Bank Holiday Cottages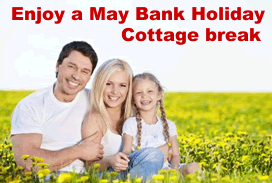 May offers not 1 but 2 Bank Holiday weekends and with it the perfect opportunity to enjoy an extended cottage break at great locations across the UK.
Every year May, and the Bank Holidays, offers the prospect of warm and pleasant weather, beautiful landscapes breaking out in to full bloom and all of the attractions opening to visitors.
It's a great time for a cottage, lodge or apartment break too, as the prices are well below the peak season so there is many a bargain to be found. Whether you are looking for a luxury cottages with their own hot tub, or a bargain break you will find some excellent choices in May. What's more, keep an eye out for some extra special discounts with an extra 10% off selected cottages.
So whether you are looking for a few nights away or a weeks holiday you will find some great value breaks in England, Scotland, Wales and Ireland. Search for some May Bank Holiday cottage bargains below.
May Bank Holiday Self Catering Cottage Breaks
May Bank Holiday Cottage Availability
Although it's not the peak summer season cottages of all shapes and sizes sell out quickly at during the Bank Holidays. Therefore as well as checking online we would also recommend calling 0844 847 1143 to find out the latest availability for cottages, apartments or lodges.
Looking for some ideas where to head this May?
What is there to do on at May Bank Holidays
The good news is..... LOTS. All the holiday attractions will be in full swing by the may Bank Holidays and so you will have your pick of fun things to do and see. You are also assured of pretty country landscape, plenty of fresh air and a warm welcome in cafes and shops across England, Scotland, Wales and Ireland.
The countryside and coast will provide wonderful walks through beautiful scenery during May. It's also a great time to explore the pretty British and Irish towns and villages - when they are not overrun with tourists - and there is nothing better than calling in at the local pubs, restaurants and cafes!
Check out some of the attractions and events during May:
More Holiday Ideas for you to consider
If you have found this holiday article interesting, why not take a look at some of our others.