Edenbridge and Oxted Show Self Catering Cottages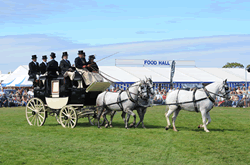 Edenbridge and Oxted Show is a wonderful day out in Edenbridge, a great way to enjoy the countryside in Surrey. The 2015 Edenbridge and Oxted Show is scheduled to take place on 30th and 31st August 2014.
If you are planning a trip to the Edenbridge and Oxted Show or simply holidaying in Surrey then we have put together a selection of self catering cottages, apartments, holiday flats and lodges below as well as some useful links to B&B's, guest houses and hotels to help you make the most of your stay in Surrey.
Whats Happening at the Show
The August bank holiday weekend Edenbridge and Oxted Agricultural Show celebrates its 175th anniversary.
The annual Show off the A22 at Blindley Heath, RH7 6LL (6 miles south of J6, M25) is one of the oldest traditional agricultural Shows in the country and was started in the year that Queen Victoria came to the throne. Special celebrations are planned throughout the two days to make this a right royal occasion for families.
The Show's facebook page allows families to plan their busy day around the 120 acre site and gives background facts for children on Victorian farming.
As part of the celebrations the Advance Family Ticket with massive savings and, for the first time this year, benefits such as family parking, picnic and spectator areas has been relaunched... available online, by post and in local outlets.
With activities for everyone to take part in even the family dog can turn up and enter Monday's Dog Show! There are free children's cookery classes, crafts to make, hobby horse racing, animals large and small to see close-up, the Red Barn Victorian Village Square with typical food and games of the early Shows including a Hog Roast and Punch and Judy, a Victorian carousel, non-stop main ring entertainment including international show jumping and the amazing Bolddog Lings, the UK's top motorcycle display team, watch them fly 35 in the air!
Dress in Victorian costume and be part of the main ring 175th anniversary parade on Sunday, register online for a commemorative rosette when you take part.
Visit our facebook page Edenbridge & Oxted Show or www.edenbridge-show.co.uk for more details about the Show on Sunday 26th and Monday 27th August 8am to 6pm, how to get reduced price advance tickets and a timetable for the free bus service which is available to all the community and runs throughout the two days from Lingfield Station.
This is the biggest two day Show in Surrey and has been part of the local community for 175 years so come along and take part in the celebrations.
Edenbridge and Oxted Show Details
Edenbridge and Oxted Show can be found near Edenbridge in Surrey.
Website: http://www.edenbridge-show.co.uk
Address: Edenbridge and Oxted Show, Blindley Heath, Edenbridge, Surrey, RH7 6LL
Date: 30th and 31st August 2014

Use the map control to zoom in or out. Please confirm the latest travel directions and details on the Edenbridge and Oxted Show website.
Missed the Show, Why not Try Another?
If the dates for the Edenbridge and Oxted Show do not fit with your travel plans then why not take a look at our full list of County Shows, County Fayres and Agricultural Shows
Been to Edenbridge and Oxted Show, Tell Us About It
If you have been to Edenbridge and Oxted Show we, and our visitors, would love to hear about it and see some pictures. Tell us about Edenbridge and Oxted Show so you can help others decide.... is it worth going to, what were the best bits, how was the parking, would you do it again, would you recommend it?
Simply go to our Facebook page and add your comments, pictures and videos - don't forget to Like Us to!
Edenbridge and Oxted Show organiser?
If you are a Edenbridge and Oxted Show organiser and would like to add more information to this page it is completely free, we want nothing in return, just tell us about it via our Facebook page our Google+ page or our Wordpress blog and we will do the rest.
Not found what you are looking for?
We have 2 cottages, apartments, lodges and bungalows listed in Surrey but if these do not meet your needs then we suggest widening your search, so why not look for cottages and apartments in South East England
Last Minute Surrey Self Catering
If you are looking for some last minute Surrey self catering apartment, flats or cottages then we recommend you call 0844 847 1143 for a great selection of properties and the latest availability and deals.
Surrey Guest House, B&B, Bed and Breakfast, Hotels
If you are looking for a weekend break or short break in Surrey then there are plenty of great guest house, bed and breakfast and hotels to choose from that would be ideal for a Devon break. Recommended sites for this type of accommodation are:
More Holiday Ideas for you to consider
If you have found this holiday article interesting, why not take a look at some of our others.