Guide to Holidays in South East England - Holiday Cottages in Sussex Kent Hampshire

Lying close to the nations capital, the south east of England is an affluent and highly populated region of the UK but don't let that fool you in to thinking that it's all built up and urban.
From the famous white cliffs of Dover to the South Downs National Park, Kent the 'garden of England', Surrey's North Downs and Hampshire's New Forest National Park, the south east is full of relaxing and peaceful rolling countryside with some great seaside family resorts thrown in.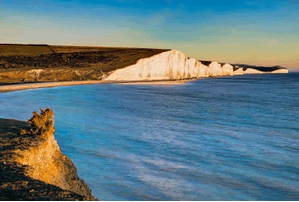 With fully intact Castles and Cathedrals to see and country houses and estates to explore, the region is rich in history.  The regions strategic importance as a gateway to and from Europe can also be seen from the 1066 Battlefields to War Tunnels at Dover (and of course now the Channel Tunnel!). The south east also represents England's religious centre with Canterbury Cathedral at its heart.
The warm south east climate has made it a popular holiday destination for couples, families and groups whether you are looking for a lively break or some peace and relaxation.  Popular resorts include Brighton, Bognor Regis, Eastbourne and Whitstable.
The south east has a wealth of arts and culture, particularly as London is a short trip from across the region, giving you great access to museums, theatre, galleries and lots more.
Seeing the South East in all its Glory
There really isn't a bad time to visit the south east as so many of the resorts, attractions and activities are open all year round. If you want to see the National Parks at their most vibrant or see the vineyards in full production, then head to the region between May and October.
Top of your South East Holiday Itinerary
There is not shortage of things to see and do in the south east of England but here are a few things that should be on every holiday itinerary.
Outstanding castles to visit - Leeds Castle in Kent and Arundel Castle, home to the Duke of Norfolk, in Sussex
The Royal Pavilion at Brighton is truly awe inspiring and don't forget to check out the nearby Laines
Canterbury Cathedral is one of England's most important religious sites

Explore the South Downs and the New Forest, two outstanding National Parks in the south of England


Encounter ponies in the New Forest
Seaside fun and Party nights in the bustling, cosmopolitan city of Brighton & Hove
Explore the picture postcard villages of Kent including Lenham, Brenchley, Benenden, Hawkhurst and Sevenoaks.
Try out some of the latest vintages at some of England's finest vineyards
Beachy Head is where the rolling chalk South Downs finally meets the English Channel producing the wonderful white cliffs
The south east has lots of attractions and activities to keep everyone in your family or group entertained. Whether you are looking for wildlife and zoos, theme parks and excitement or simply gardens and castles to visit you will find it in the south west. 
Check out our South East England activities and attraction guide to East Sussex, Hampshire, Isle of Wight, Kent, Surrey and West Sussex.
Cycling in the South East
lots of activities and attractions in South East England, check out our
attraction guide
to see more
Whether you are looking for a day out on your bike or wish to explore the south east on a bicycle holiday there are some great routes to get you going.  You will find that the road networks in the south east are very busy so it is worth seeking out safe cycling routes that take you away from the main traffic.  A great place to start is the National Cycle Network routes, a number of which cross the region including:
Downs and Weald Cycle Route. London to Brighton and Hastings
Garden of England Cycle Route. London to Dover and Hastings
There is also plenty of great cycling off road cycling around the New Forest and the South Downs National Parks and other popular cycle routes include the Cuckoo Trail. You can find lots more great trails to cycle via the Sustrans website.
Walking in the South East
The 2 well known long distance walks in the region are the South Downs Way National Trail and the North Downs Way which you can join at various points and do as much as you have the energy for.  The Downs are undulating and can be tiring walks so if you fancy something less challenging there are plenty of other walks across the region including those through the beautiful New Forest.
Walk the South Downs Way or have family fun on the south east's family friendly Blue Flag beaches
Blue Flag beaches in the Westcountry and South West
If you are looking for a clean and safe beach for family or friends then it is worth looking out for the Blue Flag beaches (reviewed annually against tough standards, only the best beaches get the Blue Flag Award). The south east has a number of Blue Flag beaches in West Sussex, Hampshire, Kent and the Isle of Wight. Check out our Blue Flag beach list.
Golfing in the South East of England
There are a number of English Championship Golf Courses in the South East of England including Sandwich in Kent, Wentworth in Surrey and the East Sussex National at Uckfield. If you want something slightly less challenging than a Championship Golf Course there are plenty of other good golf courses in the south east of England to choose from.
Start your South East of England Cottage search
Refine your South East Cottage search
We have 1134 cottages, apartments, lodges and bungalows listed in South East England which is a huge choice. So if that is feeling a little overwhelming, why not narrow down your search.
Search by county in South East England
Probably the quickest way to reduce your search is to look at specific counties in the South East. So why not look for cottages and apartments in:
Of course you can also search by town, simply click on one of the town names in the listings above and you will go to a page with all our listings in that town.
See More Regional Guides

If you would like to see more of the Find Cottage Holidays Regional Guides please use the links below: