Holiday Cottages in Cambridge & East Anglia - a Guide to Holidays in East England

Eastern England is rural Britain at its best with vast fertile flatlands of East Anglia providing the beautiful landscape that has inspired great British painters including Constable and Gainsborough.
Of course, millions of people flock to the east of England every year to enjoy a holiday on or near the Norfolk Broads, the Cambridge Fens, the Lincolnshire Wolds and the Suffolk coast every year.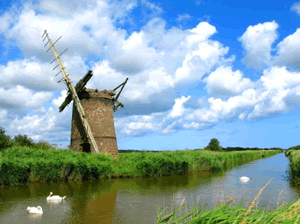 Although less populated than most regions in Britain, the east of England has diverse cities, from the seat of learning that is Cambridge, with its historic university, to the cosmopolitan Norwich with its medieval Castle and Cathedral. There are also many pretty market towns and villages which echo the affluence that brought the region to great wealth in medieval times when the wool and weaving industries were at their most important.
Tourism now plays an important part in Eastern England's economy, with the East Anglian coastline having many popular traditional seaside resorts including Great Yarmouth, with its famous Pleasure Beach, Lowestoft and Hunstanton. However, between these resorts you will find miles of open and untouched coastline to explore, a must for bird watchers, and some lovely fishing villages.
peaceful and relaxing waterways of the Norfolk Broads that meander their way through the county
Head in-land and you will find the peaceful and relaxing waterways of the Norfolk Broads that meander their way through the county and are the focus for thousands of family boat holidays and river boat cruises each year.
Through out the region you will find picturesque villages that are full of historical character and charm from the timber framed avenues of Lavenham in Suffolk to to the cobbled street of Lincoln. Or if you want to follow in the footsteps of those famous painters, try Sudbury where Gainsborough was born and East Bergholt the birthplace of Constable.
Seeing the East Anglia and Eastern England at its Finest
The great cities and towns of the East of England are great to visit all year round with plenty to keep you entertained. Not surprisingly the seaside resorts and the Norfolk Broads are seen at their most vibrant best between April and October.
During the school summer holidays the waterways of the Broads do get very busy and so if you are wanting a little more peace on the water it is best to avoid late July and August.
Top of your Eastern England Holiday Itinerary
There is no shortage of things to see and do in the east of England so here are a few things that should be on every holiday itinerary.
Exploring the University town of Cambridge – how about taking to the river in a punt
Medieval sightseeing at Norwich castle and cathedral
A cruise on the Norfolk Broads
Visit the home of horse racing at Newmarket - a visit to the National Stud is a great family day out

stroll up the historic Southwold Pier or have family fun at the Skegness Pier

Enjoy a relaxing stroll up the historic Southwold Pier or have family fun at the Skegness Pier
Visit Lincoln's cobbled streets and its iconic Cathedral
Check out the views on a walk on the Suffolk coastal path
Spend a day exploring the Norfolk retreat of HM The Queen - the Sandringham Estate
Whether you are looking for wildlife and zoos, theme parks and excitement or simply gardens and castles to visit you will find it in the south west. Check out our East England activities and attraction guide.
Check out our activities and attractions guides to Cambridgeshire, Essex, Lincolnshire, Norfolk, Suffolk
Cycling in the Cambridge and East Anglia region
Cycling in East Anglia is a very leisurely activity not least because the landscape is so flat. If you can keep the wind behind you it is even possible to freewheel for miles at a time so perfect for a family outing! In addition to being very flat, the East Anglian region has a multitude of quiet lanes and roads for you to cycle along making it generally a safer place to cycle. However if you are in the Essex part of the region you will need to choose your route more carefully as there is more traffic.
In terms of where to head, take your pick of the Norfolk and Suffolk coastline and around the Fens for the best views and enjoyable rides. If you are looking for something more energetic then we would recommend heading to Thetford Forest in Norfolk where you can find some really good off road cycling.
You can find lots more great cycle trails to cycle via the Sustrans website.
Walking in East Anglia and Eastern England
For the serious hikers and ramblers East Anglia and Eastern England is not usually a top holiday destination - afterall their is not a peak or climb in sight. However, for those who enjoy a relaxing stroll in beautiful countryside or along the coast the east of England is perfect.
Peddars Way and Norfolk Coast Path offers fishing villages, and coastal marshes to a Roman Road

To enjoy the Suffolk Coast then you can explore the coastline between Felixstowe and Lowestoft on the Suffolk Coast Path. It is a 50 mile path but there are plenty o fplaces to join and leave it so that you can do as much as you like with popular points around Southwold, Aldeburgh and Dunwich.
If you are further north in East Anglia the Peddars Way and Norfolk Coast Path that runs from Thetford area to Cromer on the coast. This great route enables you to move from Roman road to coastal marshes and fishing villages. Again, this is great for alonger holidays but for day trips there are plenty of places to join and enjoy on shorter walks.
Blue Flag beaches in East Anglian and East England
If you are looking for a clean and safe beach for family or friends then it is worth looking out for the Blue Flag beaches (reviewed annually against tough standards, only the best beaches get the Blue Flag Award). The east of England has a great selection of Blue Flag beaches in Norfolk, Suffolk and Essex all having beaches with the Awards. Some good locations for beach holiday include Hunstanton, Cromer and Sherringham in Norfolk, Lowestoft and Southwold in Suffolk and Shoebury, Brightlingsea and Clacton-on-Sea in Essex. Check out our Blue Flag beach list.
Start your East Anglian and Eastern England Cottage search right here
Refine your East Anglia, Cambridge and East England Cottage search
We have 2181 cottages, apartments, lodges and bungalows listed in the East of England which is a huge choice. So if that is feeling a little overwhelming, why not narrow down your search.
Search by county in Cambridge, East Anglia and the East of England
Probably the quickest way to reduce your search is to look at specific counties in Eastern England. So why not look for cottages and apartments in:
Of course you can also search by town, simply click on one of the town names in the listings above and you will go to a page with all our listings in that town.
See More Regional Guides

If you would like to see more of the Find Cottage Holidays Regional Guides please use the links below: