February Half Term Family Holidays and Short Breaks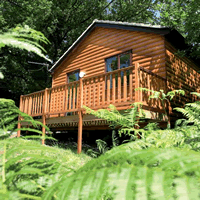 Although the sun may be out a little less and the temperatures are quite a bit cooler, there is still plenty of family fun to have this February half term. Whether you want to head to the coast where there is lots of beach fun to be had or heading inland for great countryside to explore there is plenty of choice of things to do that will keep the entire family entertained (see some great ideas below).
Holiday lodges are the perfect family break solution this half term
If you want to have cheap get away this February half term then a holiday lodge could be the perfect solution for you and your family. Cheaper than most hotel and cottage alternatives a holiday lodge or log cabin offers cosy and comfortable self catering accommodation for families of all sizes.
However, it's not just the lodge accommodation that makes this a great half term break. Many of the lodges are set in holiday communities and parks that have great facilities such as swimming pools, kids play areas, restaurant and many run activities during half term for children.
Great value and Savings on Half Term Breaks - call 0844 847 1143
There is no doubt that a half term break in a lodge offers superb value for a family break. You can check out a wide selection of lodges and log cabins across the UK with popular destinations including Devon, Cornwall, Lake District, Warwickshire and Norfolk.
Of course, half term is not most peoples main holiday and so budgets are limited for this half term break but you can find some great family lodge break with big savings, especially if you are booking at the last minute. To find the best last minute half term deals and discounts we would recommend calling 0844 847 1143.
Looking for some February Half Term inspiration?
So, you have decided a half term break away is the perfect way to banish the winter blues and occupy the children during the school holidays but where to go and what to do? Well there is a lot of choice so here is a few ideas to get you started:
York Dungeon. Transport yourself back to the dark and grizzly history of the Roman city of York. Live actors, shows and interactive special effects ensure that you face your fears head on in this unique experience. Everything that you see is based on real historical events from the Labyrinth of the Lost Roman Legion, to the chilling tale of highwayman Dick Turpin, torture and the plague. Step back in time into the depths of the York Dungeon for a thrilling and fun experience that will leave your family screaming for more! Are you brave enough?
Sea Life Centres. Great indoor fun, getting up and close to everything out seas and oceans have to offer, from Seahorses to Sharks. In fact, with over 200+ sea creatures its a full day learning and fun from the interactive rock pools to the feeding demonstrations you and your family will be thoroughly entertained.
Cadbury's World. Cadbury World, located in Birmingham is a chocolate paradise for chocolate lovers of all ages. If you're a chocoholic, this attraction will keep you coming back for more! The new, high-tech area of Cadbury World is The Purple Planet. In this interactive exhibition guests can grow virtual Ghanaian cocoa beans, chase Cadburys creme eggs across an interactive floor, and shower themselves in chocolate rain – a dream for any chocoholic!
Chessington World of Adventures. Situated in Chessington Surrey, Chessington World of Adventures is well known for it's fantastic rides but there is more to it than that. Meet the Kings of the Jungle as you take a walk on the wild side with tigers, lions and gorillas, splash around at Sealion Bay or meet the mischievous monkeys; at Chessington Zoo you can explore a whole world of animals.
More half term holiday ideas
If these half term holiday ideas don't grab you, how about some of the following:
Dickens World - Chatham, Kent
The Dr Who Experience - Olympia, London
Royal Palaces including Hampton Court Palace and the Tower of London
Theme parks Alton Towers Staffordshire or Thorpe Park in Surrey
Warwick Castle in Warwickshire